Copyright © 2003-2010 by Flo Mauri, Thinking Well Consulting

All rights reserved  Do not coy without permission

"Through Flo's coaching techniques, I have been able to achieve breakthroughs in clarifying my new career goals.  My foremost experience has been a sense of truly being heard.   Flo has an innate ability to appreciate underlying issues and point them out in such a way as to support my further expansion.  Her enthusiasm for and support of my success enables me to realize greater levels of confidence as I pursue new business strategies."

S. O., President, Corporate Innovation Consultant,  New York

"What helped me move from thinking about completing my degree work to effectively put it into action was Flo's persistence, dependability, interest, kindness and diligence.  I found Flo to be extremely perceptive, intuitive and compassionate - traits which assisted me in expanding my horizons." 

A. R., Art Therapist, Hampton Bays

Through your coaching, I've become a better trainer, as well as, an expert in other subject matter.  Your incisive debriefing points were extremely valuable for my growth.  Thank you for assisting me to expand my realm of expertise.

Michelle Wang, Career Development Trainer, Taiwan

"We could not have reached so many downtown artists in such a significant fashion without your help.  You truly made a difference in the lives of others by being there.  Thank you again for sharing your personal time and your talent with us at the Arts Recovery Conference"

Carol Derfner, President, C.W. Shaver & Company, Inc., New York

Flo has been a great inspiration to our members seeking a transition to new careers.  Through her enthusiasm and professionalism  our members have been afforded solid skills and a renewed self-assurance in their job quests.  Her step-by-step approach to a self-marketing plan has given job seekers the confidence to pursue their professional ambitions.

Administrator,  New Thought Center, New York

Flo is a caring coach who looks at the whole person, asks provocative questions, and strives to create lasting shifts on a deeper level. -- Tatiana Abend, Body Vision

Flo has a knack for really listening and thoughtfully responding.  You feel that she has truly partnered with you on the coaching experience. Her thought-provoking perspectives has challenged me to explore a chronic resistance to "playing bigger".  Her support has led to my breakthroughs in my professional endeavors.  Flo has encouraged me to look at negative thinking patterns from other perspectives.  She has helped me to view them as habits that can be replaced with new affirming habits.  That really persuaded me to move in a more optimistic direction.

B. H. S., Career Transitioning Professional, Philadelphia

Flo has assisted me in reducing the stressors in my life by encouraging me to create supportive environments.  I never thought of my office area as an unsupportive environment.  I have created a space in which I now love to work.  Through Flo's persuasion, I have begun to incorporate the idea of supportive environments to healthy eating, "me time" and surrounding myself with a small but supportive staff.  My life has opened up to include a social life and taking my first vacation in years.  Thank you for helping me to see what is truly relevent.

R. K., Business Owner, Tax Consultant, Pennsylvania

Your workshop training, incorporating teambuilding and interpersonal communication made a huge difference in how we now work as a group.  You made it fun for us and your innovative approach helped us to explore different thought processes.  Your assessment tools gave us insights into our group dynamics - something we were not aware of before.  Thank you so much for your wonderful energy and commitment to helping us succeed.

Board of Directors, Homeowners' Community Association, Pennsylvania

I must admit, through Flo's customized coaching program (behavior/conflict issues), I learned to more consciously observe body language, facial expression and tone in others.  I also became aware of the effect I have on others.  Coaching has helped me to work much better with others which has resulted in a more open environment.  I'm giving and getting more feedback!  Thanks for all your help.

--Fundraising Professional, Non-Profit Organization

Flo has definitely helped me become more aware of the developmental needs and emotional states of those who report to me.  Through coaching I have expanded my ability to empathize and address my people's concerns more fully.  I have truly benefited from techniques to deal with difficult people.  I am reaching more agreements and it's an easier process.

-- Director, Non-Profit Organization

I have learned that it was possible to regain focus and move ahead without losing a great deal of time and energy on matters beyond my control.  I have confirmed that my career path is viable and that I can rebuild my confidence and succeed in endeavors that are meaningful to me. In the past few months, I have walked away from two toxic relationships and continue to work on walking away from other such relationships.  Also, I can address issues and share my feelings without causing myself undue emotional stress; I don't fear that my trust will be violated, or that confidences will be used to hurt me. You have helped me to establish and reinforce boundaries and focus on the things that are really important to me.  Also, you have helped me to begin to explore the possibilities available to me for a joyous, fulfilled future.  You have been very insightful in redirecting me.  Your approach really works for me.  I have a professional rapport with a coach with whom I can easily communicate.

-- Principal, Small Business Owner

Before coaching, I knew I needed to make a change in my life, but I wasn't sure what it needed to be or how I would do it.  After being coached by Flo, I have gained a great deal of clarity about the changes I need to make, and I'm now taking steps toward a more from New York City to Los Angeles.

-- Vice President, Advertising Industry

"I recommend Flo Mauri without reservation! Her profound listening skills, her ability to make you feel safe to express what you're feeling and her ability to ask key questions that lead you to finding your own answer is nothing short of brilliant. At the same time she helps you look at behavior: yours, as well as the other person's in the equation, and assists you in uncovering ways to remove obstacles to success in ethical and principled ways. She's skilled, nuanced and offers sensitive approaches to solving human relationship problems that are profound, effective, freeing. She's the ace up my sleeve and she can be yours too. Call her! You'll thank me."

Ginny Pulos, President and CEO, GInny Pulos Communications, Inc.

Speech and Media Consultancy

Flo Mauri is truly a phenomenal coach.  Working with her over the past 7 months has brought me new insights and empowered me in ways I never thought possible.  Anyone who works with Flo or hears her speak will get results and find themselves enjoying a much richer life.  Her authenticity comes shinning through in all things.

Julie Algozino, CEO

Lake Barrington Professional Services

Chicago, Illinois

www.lakebarringtonprofessionalservices.com

"Flo is a consummate professional. She approaches her work with intelligence, warmth and diligence. She really cares about the welfare of her clients and it shows in her efforts to help me maximize my personal and professional potential. If you want great results, a coach with high integrity, call Flo!"

Joyce Francis, Owner, Omega ElderCare Services, LLC

"Flo brought an excellent program to the NYC Midtown Coaching Center. Speaking without notes, she ran us through a series of exercises on decision-making. She showed us the "rational-decision" trap, where emotional issues underlie "logical" decisions. And in the Triad Coaching part of the program, we made efforts to deal with both rational and emotional aspects of decision-making. Good program, fine speaker!

Craig Jennings, President ,

Small Business Coaching Specialist

www.craigjennings.com

I've known Flo Mauri as a colleague and buddy coach for several years, and can attest to her devotion to her coaching clients, as well as, her passion as adjunct faculty at NYU's School of Continuing & Professional Studies.  She works especially well with emerging managers and leaders, particularly those of diverse backgrounds, having herself come from a different cultural setting.  Flo's love for learning will continually inform and drive her exceptional work as teacher and coach.

Phyllis Weiss Haserot







Practice Development Counsel

www.pdcounsel.com 

www.nextgeneration-nextdestination.com

I took a class, (Emotionally Intelligent Leadership) given by Flo at New York University. She is an excellent teacher and coach. It was a pleasure to be in her class. I learned a lot of things that will help me in life."

Robin Schafer ,

Certified Emotional Intelligence Trainer, Masterful Kids

"I have known Flo several years as both a colleague and mentor/coach. One of the characteristics about Flo that I find most inspiring is her genuine desire and ability to help others live their best life both professionally and personally. The unique combination of her personal and professional background adds a wonderful depth to her insightful coaching skills. Her combination of skill, passion, and insight has often been the catalyst for me getting clearer on my priorities and the obstacles to achieving my goals and then developing and executing strategies necessary to achieve what I want. She is a great coach, mentor, and cheerleader who has made a significant contribution to my life by helping me achieve more of what I want in life both professionally and personally."

Debby Schifferns, Owner, Business Mentor

Business Breakthrough Solutions

Resources and Support for Solopreneurs

"I initially worked with Flo a few years ago, in group-coaching sessions while transitioning to a new career. Through Flo's insightful coaching, I cultivated new skills and confidence to pursue a new career path. I engaged Flo again to help me pursue new goals while facing workplace challenges. Flo guided me to find my own answers and to recognize my unique strengths and power base. One of the most significant outcomes for me was improving my office relationships. Once I did, I performed at a higher level in the organization as well as increased my professional growth. Flo excels at helping people relate on a deeper awareness level.

Flo provided me with a wealth of resources to help with whatever issue I faced, guided me to discover and face the tough choices, and take action. I have known Flo for several years as a coach, trainer and faculty member, and recommend her highly. She will help improve people skills, and thus, performance in any situation. I unconditionally recommend Flo Mauri as a highly effective, corporate coach and training professional.

Barbara A. Reinhalter VP, Operations/Board Director

ASTDNY (American Society of Training & Development)









Thinking Well Consulting®

Thinking Well Consulting®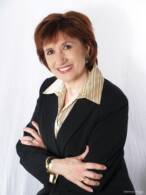 Helping you master today's workplace